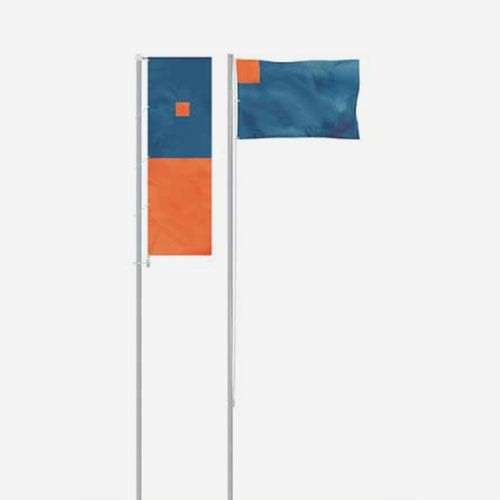 Composite flagpoles
An elegant, durable solution, and, what is more, an effective form of advertising. The flagpoles are made of polymer-glass composite, there are a lot of advantages of this material - the flagpoles are lightweight, there are no operating costs, a service life of at least 40 years, easy assembly and transport.
Our flagpoles come in four versions: Standard, Super, Superwindtracker and Master.
Standard
Flag is hoisted by the rope that is placed outside the mast. The rope is tied on the cleat with a sailing knot, the cleat is usually placed 1.5 meters above the ground. The flag exposition depends on the gusts of wind.
Super
The rope is placed inside the flagpole. This solution eliminates the noise that can be caused by the rope that is hitting against the flagpole. The flag is hoisted and lowered by a rope that is attached to the inner cleat hidden inside the flagpole. This solution partially protects against flag theft. A weight is attached at the bottom of the flag - to ensure the proper display and tension of the flag.
Superwindtracker
This solution is a combination of the flagpole type Banner and Super. That means that this flagpole has a rope hidden inside and a horizontal arm mounted on the rotating socket. This solution ensures the proper, full presentation of the flag independently from the weather conditions, hoisting and lowering the flag without the need to lay the flagpole on the ground.
Master
Flagpoles with the height up to 22 m!
---
Download
KARTY KATALOGOWE
KARTA KATALOGOWA - MASZTY STANDARD
KARTA KATALOGOWA - MASZTY SUPER
KARTA KATALOGOWA - MASZTY SUPERWINDTRACKER
KARTA KATALOGOWA - MASZTY MASTER
INSTRUKCJE
INSTRUKCJA MONTAŻU MASZTÓW STANDARD
INSTRUKCJA MONTAŻU MASZTÓW SUPER
INSTRUKCJA MONTAŻU MASZTÓW SUPERWINDTRACKER
INSTRUKCJA STAWIANIA MASZTÓW KOMPOZYTOWYCH TYPU MASTER
INSTRUKCJA WYKONANIA STÓP FUNDAMENTOWYCH DO MASZTÓW 5-12M
INSTRUKCJA WYKONANIA STÓP FUNDAMENTOWYCH DO MASZTÓW 13-22M
DEKLARACJA WŁAŚCIWOŚCI UŻYTKOWYCH
KARTA GWARANCYJNA MASZTÓW FLAGOWYCH
---